Sacred Music Radio started in 20 March 2013 and listener numbers have grown steadily. Our vision remains – to give exposure and airplay to a genre of music sadly lacking in mainstream broadcasting, so that artists can be promoted and featured to a discerning audience.
Looking at our latest information shows us how far we've come; we now have listeners in 45 countries around the world, in all but two continents.  Our main audience is still in the UK, US and Europe, but we also have listeners in other countries including India, China, Israel, Iran and Kuwait.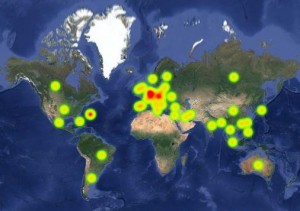 With the launch of our free App on the Apple Store and Google Play we expect that in a few months Sacred Music Radio will have reached people in every continent as listeners can now use mobile devices; bringing them interfaith and spiritual music wherever they are.  Download the app now, listen tell your friends.